Celia Hughes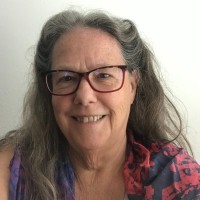 Executive Director, Art Spark Texas
---
Celia Hughes has over 40 years experience working in the arts as producer, audio describer, artist and administrator. She has worked alongside people with disabilities for over 30 years. She serves as a member of the Subject Matter Expert (SME) Committee developing guidelines for Audio Describer certification under development by the American Council of the Blind. At Art Spark Texas, she has been training audio describers and providing AD services in Austin and across Texas for 20 years.
In 2001, Celia produced "The Art of Audio Description" the first video training series for theater and museum events. She has described performances across the country, including a Sight. Sound. Soul. concert by jazz pianist Henry Butler and blues musician Noé Socha at the Americans for the Arts Conference in Boston, MA. Celia helped launch audio description programs in Fort Worth, Houston, Georgetown, and San Antonio, Texas, and has led professional training workshops in Vermont, Florida, Minnesota, North Carolina, Hong Kong and Taiwan. As a co-founder of the Audio Description Coalition, she developed the standardized describer training curriculum and, in conjunction with the Kennedy Center's LEAD Conference, has provided professional development trainings in Kentucky, San Diego, Boston and Washington DC. Currently, she and her team are working with Automatic Sync Technologies to deliver audio description.

Ms. Hughes holds a Masters Degree from the LBJ School of Public Affairs, University of Texas at Austin, and a BA in Speech Pathology from Plattsburg State College, New York.
---
Classes
John Slatin Virtual AccessU 2021