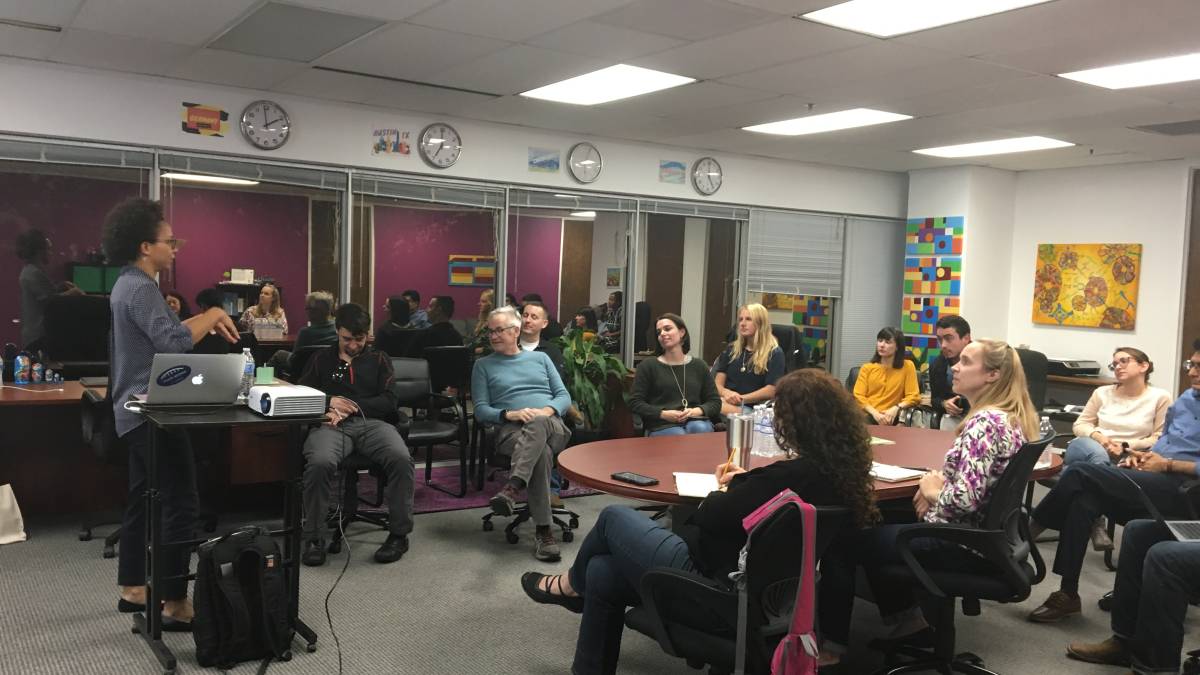 Knowbility, Inc. is a nonprofit organization based in Austin, Texas and an award-winning leader in accessible information technology.
---
Our Story
Each year, Knowbility directly serves more than 1000 people through our Accessibility Internet Rally, AccessU, and other training and consulting services.
Since 1999, Knowbility has been working with hundreds of businesses, educational entities, government and nonprofit organizations to train staff, implement effective accessibility strategies, and monitor long term goals to reach millions of new users.
Knowbility, Inc. was incorporated as a 501(c)(3) in March, 1999 shortly after conducting its first community-building event called the Accessibility Internet Rally. AIR Austin proved to be an effective model for engaging the information technology sector and the social services community in disability issues. It has since become an annual event and has been replicated in several U.S. cities. Knowbility's team of experts is internationally recognized for its role in creating the worldwide standard for web accessibility implementation and training.
---
Our Board
Knowbility is actively recruiting for committed board members who can help us raise awareness and funds to support our community programs. Interested? Complete the Volunteer Interest form to indicate interest in board service.
---
Awards & Recognition
Knowbility has received numerous awards and national recognition for excellence in service to people with disabilities, including special recognition by the Clinton White House, the US Congressional Black Caucus and the US Department of Labor as a leader in best practices in the employment of people with disabilities. In 2009 and 2010 Executive Director, Sharron Rush, was invited to the West Wing to consult about disability and employment issues with Kareem Dale, the Obama White House Special Advisor on Disability Issues.
2017 — Martha Arbuckle Meritorious Service Award, The Austin Mayor's Committee for People with Disabilities and the Texas Governor's Committee for People with Disabilities; to Executive Director for exceptional degree of service to people with disabilities.
2015 — FCC Chairman's Award for Innovation in Accessibility
2012 — Media Award for Outstanding Leadership, National Assoc. of Social Workers, Texas
2010 — Texas Governor's Award for Volunteerism
2010 — City of Austin Mayor's Committee For People with Disabilities, Partnership Award
2010 — Employer of the Year, the Texas Rehabilitation Association
Executive Director named a Community Tech Champion by the U.S. Congressional Black Caucus.
2003 — TEC Champion Award for Outstanding Technology Leadership from the Washington DC based Education Technology Think Tank and CTCNet
2002 — Dewey Winburne Community Service Award to Executive Director, Sharron Rush, SXSW Interactive Media Conference
2002 — Outstanding Community Collaboration, Texas State Legislature, for ATSTAR project
2001 — Community Technology Partnership Award from Capitol Area Training Foundation
2001 — Executive Director, Sharron Rush, named to Top 25 Women of the Web by San Francisco Women of the Web for raising awareness of the need for Internet accessibility
2000 — Peter F. Drucker Foundation for Nonprofit Innovation. Knowbility's Accessibility Internet Rally (AIR) recognized as innovative program
2000 — White House recognition — Rocky Mountain AIR program was cited by President Clinton as noteworthy initiative bridging the digital divide
2000 — Texas Interactive Media Award (TIM) for public service for AIR-Austin project.
2000 — National Labor Summit highlights Knowbility's AIR program as a "best practice" in the employment of people with disabilities
1999 — Community Collaboration Award; Greater Austin Chamber of Commerce, United Way/Capital Area and citysearch.com.
1998 — Achievement in Media Award, Austin Mayor's Committee on People with Disabilities