Engaging communities in disability inclusion.


About Us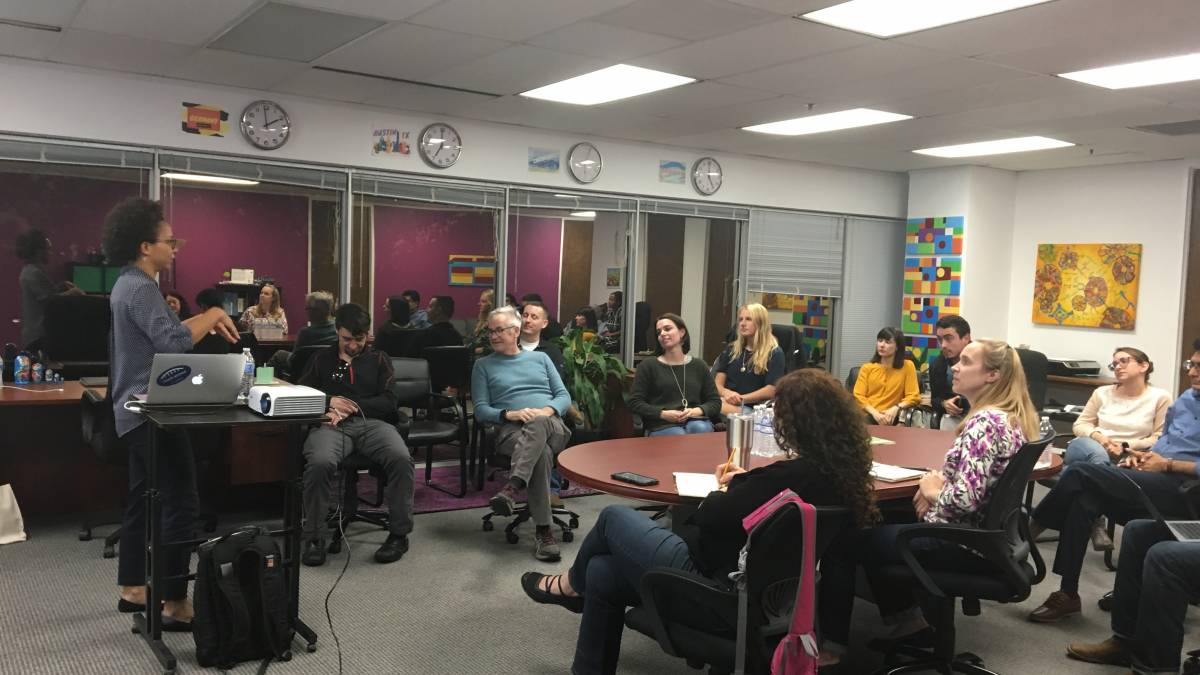 Knowbility, Inc. is a nonprofit organization based in Austin, Texas and an award-winning leader in accessible information technology. Our mission is to create an inclusive digital world for people with disabilities.
---
Our Story
Knowbility is a nonprofit organization based in Austin, Texas and serving a global constituency. It was founded in 1999 as the result of a two year community collaboration to raise awareness and improve skills around digital accessibility. We pursue our mission through three related sets of programs and services:
Awareness - the award winning Acessibility Internet Rally (AIR) program, free webinar series, active participation at the W3C's Web Accessibility Initiative, and more;
Education - the annual AccessU digital accessibility skills training conference, our K12 AccessToolkit, our Online Learning Center, and more;
Accessibility Services - audits, usability testing, staff training, design workshops, specific Help Desk support, and more.
History
As Austin was becoming a technology hub in the mid to late 1990's, the community of people with disabilities were essentially locked out of participation due to barriers inherent in the technology itself. A group of leaders from academia, industry, government, and disability advocacy groups created a contest to engage the tech sector in a fun, friendly competition to remove tech barriers and create accessible websites. The Accessibility Internet Rally (AIR) competition taught accessibility design in the context of a creative and joyful community engagement event - a hackathon before the word was even known!
As AIR gained local fame and began to be produced in other cities, Knowbility was formed to be a permanent home for the award-winning community effort. AIR includes training for developers, designers, and product owners. It has an evaluation component in the judging form. And AIR is a proven and very effective way to build community around the powerful idea of digital equity for people with disabilities.
Over time, Knowbility received requests from individuals, state agencies, and businesses to provide the training and evaluation services outside of the community programs. We launched an annual training conference in 2006 called AccessU and we began offering consulting and evaluation services on a fee for service basis.
Join Us
In more than two decades of service to our mission, Knowbility programs and services have grown. We invite you to explore our vibrant community. Join us to learn more, to actively participate, or to enlist our support wherever you are in your own journey. Accessibility is a team sport, together we can create an inclusive digital world for people with disabilities.
---
Our Board
Knowbility is actively recruiting for committed board members who can help us raise awareness and funds to support our community programs. Interested? Complete the Volunteer Interest form to indicate interest in board service.
---
Awards & Recognition
Knowbility has received numerous awards and national recognition for excellence in service to people with disabilities, including special recognition by the Clinton White House, the US Congressional Black Caucus and the US Department of Labor as a leader in best practices in the employment of people with disabilities. In 2009 and 2010 Executive Director, Sharron Rush, was invited to the West Wing to consult about disability and employment issues with Kareem Dale, the Obama White House Special Advisor on Disability Issues.
2023 — AARP Purpose Prize Award to Executive Director, Sharron Rush, July 28, 2022, for using her decades of life experience to give back in a meaningful way, to be a leader in the disability community and to create a better future for people with disabilities.
2019 — Declaration of Austin Digital Accessibility Day in honor of Knowbiltiy's Accessibility Internet Rally (AIR) Kickoff.
2017 — Martha Arbuckle Meritorious Service Award, The Austin Mayor's Committee for People with Disabilities and the Texas Governor's Committee for People with Disabilities; to Executive Director for exceptional degree of service to people with disabilities.
2015 — FCC Chairman's Award for Innovation in Accessibility
2012 — Media Award for Outstanding Leadership, National Assoc. of Social Workers, Texas
2010 — Texas Governor's Award for Volunteerism
2010 — City of Austin Mayor's Committee For People with Disabilities, Partnership Award
2010 — Employer of the Year, the Texas Rehabilitation Association
Executive Director named a Community Tech Champion by the U.S. Congressional Black Caucus.
2003 — TEC Champion Award for Outstanding Technology Leadership from the Washington DC based Education Technology Think Tank and CTCNet
2002 — Dewey Winburne Community Service Award to Executive Director, Sharron Rush, SXSW Interactive Media Conference
2002 — Outstanding Community Collaboration, Texas State Legislature, for ATSTAR project
2001 — Community Technology Partnership Award from Capitol Area Training Foundation
2001 — Executive Director, Sharron Rush, named to Top 25 Women of the Web by San Francisco Women of the Web for raising awareness of the need for Internet accessibility
2000 — Peter F. Drucker Foundation for Nonprofit Innovation. Knowbility's Accessibility Internet Rally (AIR) recognized as innovative program
2000 — White House recognition — Rocky Mountain AIR program was cited by President Clinton as noteworthy initiative bridging the digital divide
2000 — Texas Interactive Media Award (TIM) for public service for AIR-Austin project.
2000 — National Labor Summit highlights Knowbility's AIR program as a "best practice" in the employment of people with disabilities
1999 — Community Collaboration Award; Greater Austin Chamber of Commerce, United Way/Capital Area and citysearch.com.
1998 — Achievement in Media Award, Austin Mayor's Committee on People with Disabilities