Low Tech entry to digital inclusion


Be A Digital Ally

BADA helps create a more inclusive digital world!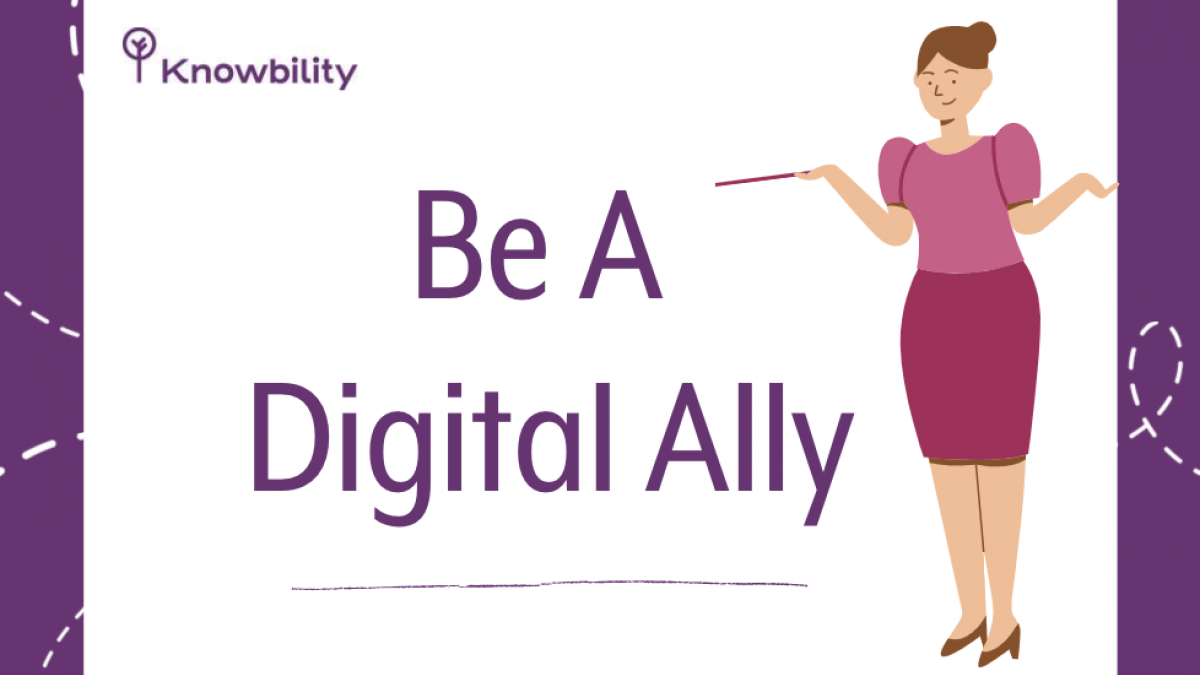 Be A Digital Ally is a free monthly series that covers the basic skills and principles of accessible digital design. It is meant for people who regularly interact with and create digital content but are new to accessibility.
Upcoming Sessions
October 2023: How to Include People with Disabilities in Usability Testing
Join AccessWorks Manager Ashley Abaragu to learn more about why inclusive usability testing is so improtant in developing truly accessible digital products and services. Bring your questions about usability testing in general and how to connect with and include user needs beyond the most typical. You will leave with an understanding of how inclusive user studies result in better products for all. You won't want to miss this episode!
2023 Schedule
October - Including People with Disabilities in Usability Testing
November- Choosing Technology that is Accessible
December - Determining Your Organization's Accessibility Needs
January- Accessible Social Media
---
Previous Sessions
August 2023: The Accessibility Internet Rally - why participate?
July 2023: Accessibility Policy - What, How, Why?
June 2023: How People with Disabilities Access Digital Content (part 2)
---
Introducing: Be A Digital Ally
---
October 2022: Accessibility Checkers
You have a website and you want to see if it's accessible to your users. Maybe you have to recommend websites to others as part of your job and you want to make sure your clients can access the information. Accessibility checkers can provide a quick diagnostic to see if those websites will be accessible. This month we will review how to make the most of these tools with our tips and tricks.
September 2022: Your Website's Toolbox, Content Management Systems
What's a CMS? What does CSS stand for? Is the URL the same thing as my website? If you are not a web developer or designer, making a new website can be a confusing mess of products and subscriptions. We will walk through the steps one needs to take to start a new website, plus what to look for and consider to make sure your website can be as accessible as possible.
---
August 2022: Documents & PDFs
You interact with various documents regularly, but how accessible are they to your co-workers or audience? This session will review the basic accessibility requirements for documents & PDFs, how to utilize accessibility checkers, and tips & tricks for easily creating accessible materials.
---
July 2022: Visual Information (Part 2)
In Part One of the series, we focused on alternative ways to deliver your content to blind users, primarily through audio description and proper heading structure. In this session, we will go over the various obstacles and considerations for low vision users, including brightness, contrast, page setup, and making good branding choices.
---
June 2022: Visual Information (Part 1)
Anything containing visual information including gifs and photos should have visual descriptions!
Visual and audio descriptions ensure access to visual information for those who are blind or have low vision. Join us in this session as we cover available services, tools, and best practices for ensuring your content meets the gold standard for Visual Information.
---
April 2022: Captioning
You are likely familiar with captioning, the text version of whatever is being spoken in a video, but do you know how to caption your own video content?   
In this session, we will be going over all things captioning: available services and tools, adding captions manually, and best practices for video content. Come learn how to make your videos accessible to your audience! 
---
March 2022: Descriptive Links + Plain Language
When writing new content for your website, whether it's a job posting, a blog post, or for a new section or page, it's important that the language and links be accessible to all users. 
In the second session of the Be A Digital Ally series, we will be covering two topics: descriptive links and plain language. The first topic will be descriptive internal and external link text, which is especially important to screen reader users. The second topic will be the use of plain language. Clear, concise language makes your message more readable for everyone. It is especially important for people with dyslexia or other cognitive issues. We'll explore techniques and guidelines to help you simplify your writing and make it more easily understood for all.
---
February 2022: Alternative Text
Alternative text is a textual substitute for non-text content in web pages. important because it allows blind and visually impaired users to access the information on your site, making it a hallmark of accessibility.
In this session, we will be covering the ins and outs of alternative text. The first half of the session will cover all of the information and guidelines you'll need to create effective alt text: when and where to place it, the purposes it serves, and how to (and not to) write it.
---
Check Out Other Knowbility Events