John Slatin AccessU 2022


Attendee Guide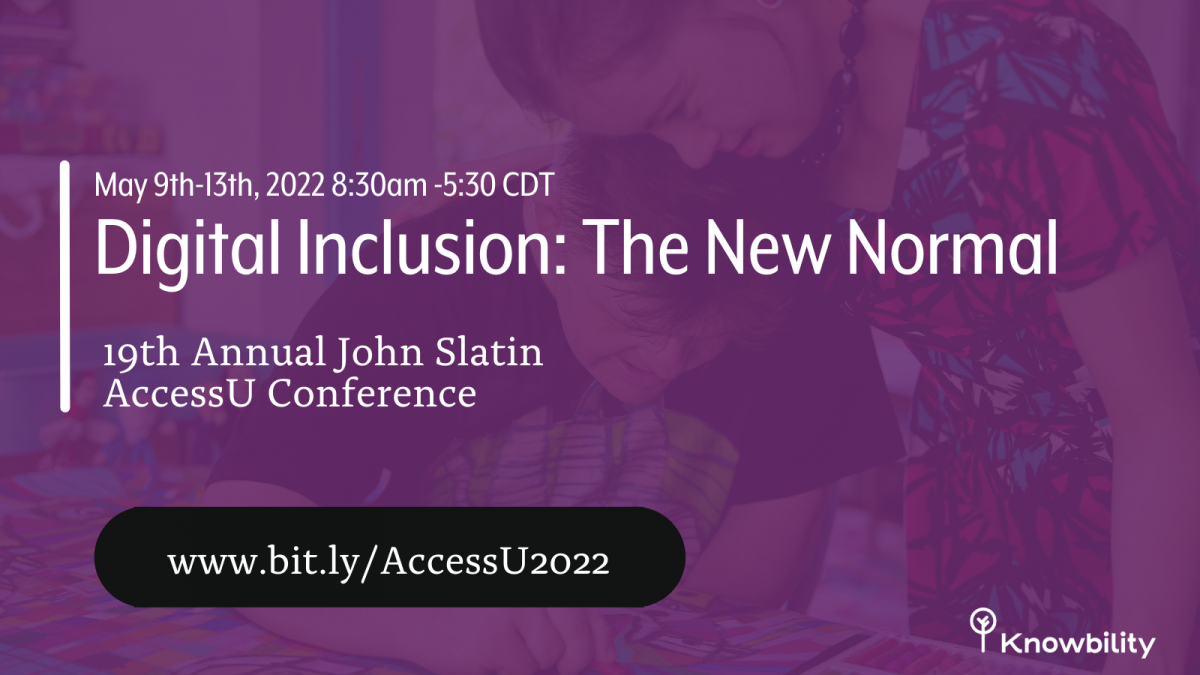 Welcome to John Slatin AccessU 2022!
AccessU 2022 Attendee Guide
John Slatin AccessU is one of the highlights of our year. We reconnect to our origins, recommit to our mission, and learn tons from our community. We usually manage to have some fun along the way. So welcome, thank you for joining us and for your own commitment to accessibility.
Attention Attendees!
Watch your inbox! You will receive two emails regarding accessing Zoom Events and the Learning Center no later than Thursday, May 5th. If you think we have the wrong email address for you we recommend filling out the Ticket Update Google Form. If you have any questions please email accessu@knowbility.org. Thank you!
---
Schedule
If you would like details on this year's schedule, please visit the Full Schedule page where you will find an overview of the conference breakdown. Stay tuned to both this page and that one for updates.
Zoom Events & Slack
Zoom Events will be our conference platform for all hybrid sessions and events for AccessU 2022. We will also be utilizing Slack as an additional method of communication and networking. Please visit the Zoom Events & Slack page for more information on how to utilize these tools and make the most of your AccessU experience.
Onsite Participants
If you are attending the conference in-person at St. Edward's, please visit the Onsite Attendee Guide for information on hotels, parking, meals, and more.
Learning Center
In addition to the pre-recorded Asynchronous sessions, all live sessions will be recorded and made available for your viewing for approximately 100 days in our Learning Center. We will provide accompanying materials and ensure they have been remediated for accessibility.
If you did not receive your log-in credentials for the Learning Center please email accessu@knowbility.org.
Accessibility
Knowbility is committed to providing accessible experiences and accommodations. Knowbility will be providing live captioning and ASL interpretation for all plenary events, such as keynotes and welcome sessions. Auto-captions will be available to all deep dive and general sessions through Zoom events, live-captioning can be made available upon request. Other accessibility needs can be accommodated as needed. Requests are made during registration and at least 72 hours prior to the event. If you have any questions, please contact us at accessu@knowbility.org.
Questions
Still have questions? - email us at accessu@knowbility.org or post to the Slack #help channel.
Thank you from the bottom of our hearts for joining our annual AccessU conference and for all you do to support our shared mission of making the digital world more accessible and inclusive for all. And if you're up for some history, here is why we call it John Slatin AccessU.