Keynote Presenters
Learn about our 2022 AccessU Keynotes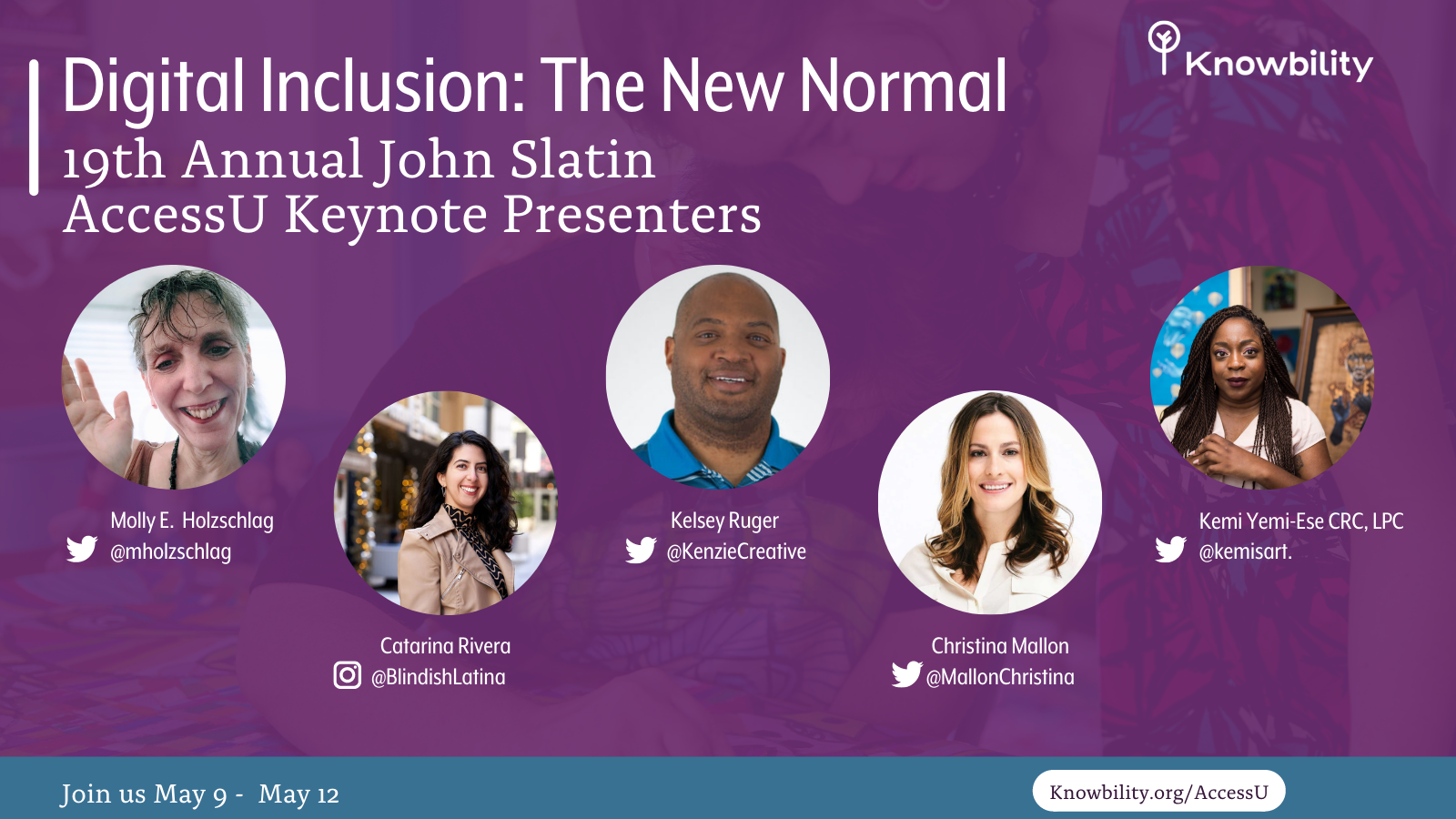 Molly E. Holzschlag
Molly E. Holzschlag is a U.S. author, lecturer and advocate of the Web as a tool of human potential. With a background in linguistics, communications, mass media, social justice, human cognition, behavior, and sociology her work has spanned a range of topics and interests throughout her 30 years in IT. Molly has written or co-authored 35 books on web design and open standards, including The Zen of CSS Design: Visual Enlightenment for the Web. She is currently in the midst of her 36th book project with John Wiley and Sons, for which her John Slatin AccessU 2022 keynote presentation is named. "Included: Redefining Accessibility for the World Wide Web" is rooted in the early mentorship and ideas of both Dr. Slatin himself and many others related to the emergence of Accessibility as a concept and practice for Web and related industry professionals. Engaging, funny, always colorful, often disruptive, forever difficult, Molly's life and work have been dedicated to open engagement, open human behavior, accountability, responsibility, and finding common, collaborative groups and individuals that progress our world.
Molly's Keynote Talk: Redefining Accessibility for the
World Wide Web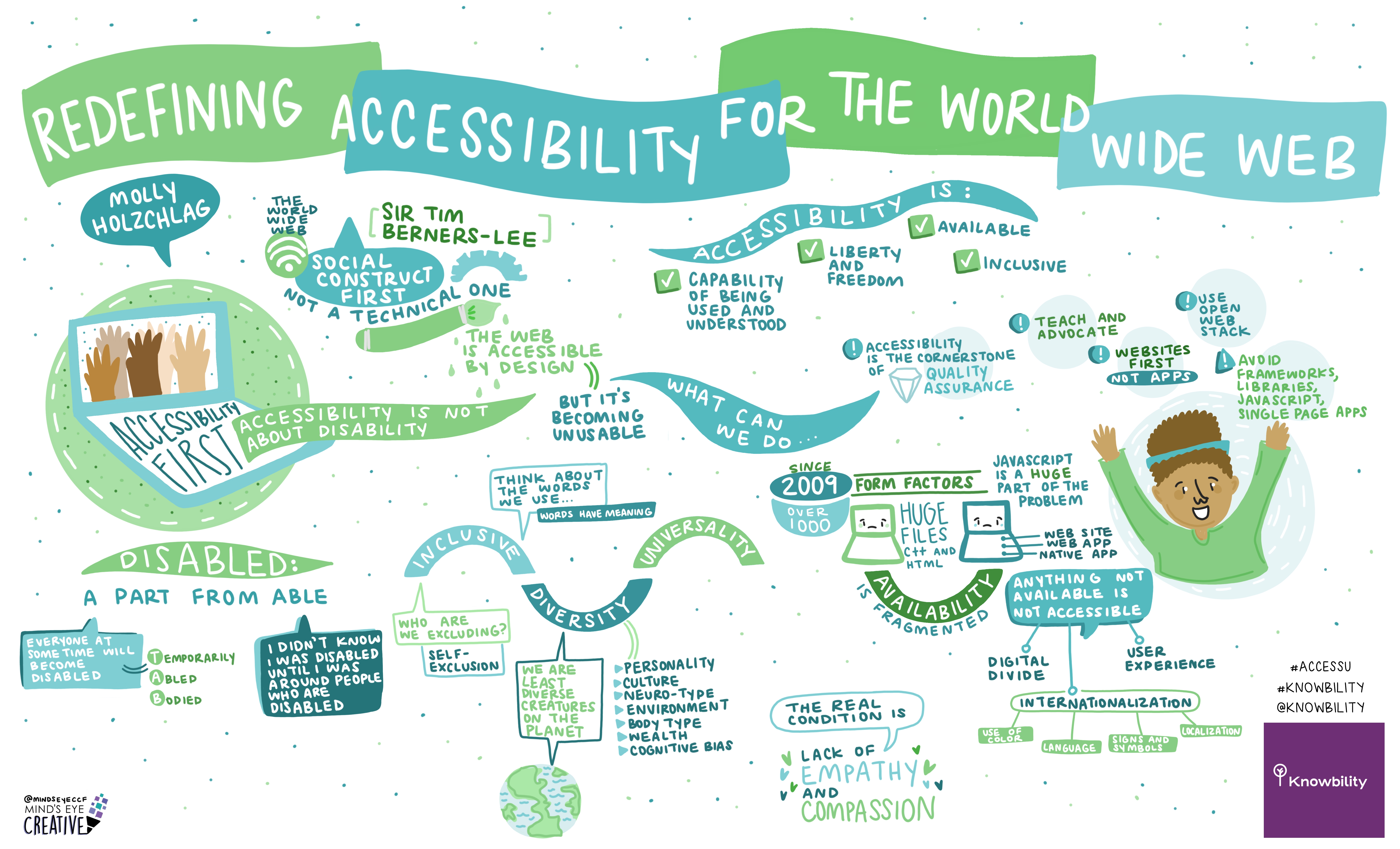 Audio Description of Molly Holzschlag's Keynote Sketchnote
Visual Description of Molly Holzschlag's Keynote Sketchnote
Inclusion, diversity, universality. An entire industry has emerged to find the technical solutions, but do we really understand the social issues that have held us back from seeing Accessibility for the Web not as a tack-it-on-after endeavor, rather the most important point of connectivity between humans, computers, networks, and ultimately individuals and society. This session reveals some of the misperceptions we've all fallen into along the way about what Accessibility means, and what the practice of #a11y is in relation to what is a far broader need: To understand the social and behavioral impulses in humanity that give rise to educational, institutional, and organizational outreach still are not inclusive, diverse, or universal. Why? After all, leaving accessibility out of the equation is a ridiculous and dangerous precedence to set, so it is only to our advantage to make the time to widen our understanding of the social, business, and technical work that also goes into it, and how to redefine it at the First Class Citizen of the Web. It benefits us now and opens more opportunities as we grow our skills. Accessibility first, for the win!
---
Christina Mallon
Christina is a woman at the forefront of an important movement towards inclusivity in design. She has a unique and special voice, championing individuals often ignored by these industries – particularly those with disabilities.
At the start of Christina's professional career, her arms slowly became paralyzed. Rather than being discouraged, she recognized the opportunity to grow awareness and make a measurable impact within the industry. This realization inspired her to start an inclusive design practice at the worlds' largest marketing and design agency, Wunderman Thompson, and lead one of the only incubators focused on adaptive fashion & tech for the disability community called Open Style Lab at MIT & Parsons. She has partnered with brands like Unilever, Macy's, IKEA, Tommy Hilfiger, & GSK on how to make their customer experiences more inclusive. She currently serves as the Director of Inclusive Design at Microsoft.
Christina's work around inclusive design has received world-wide attention and has been featured in Fast Company, Vogue, NBC News, Netflix, PBS, Hulu and BBC. Also, she received LinkedIn Top Voice in Design 2020, Smithsonian's Emerging Designer of the Year 2019, Ad Age 40 under 40 and D&I Champion of the Year, Adweek Creative 100, Yahoo's HERoes Role Model 2020 and Business Insider's Rising Stars.
In her free time, she mentors job seekers with disabilities and educates companies on how to become a more disability inclusive company.
Christina's Keynote Talk: Inclusive Design is Better Design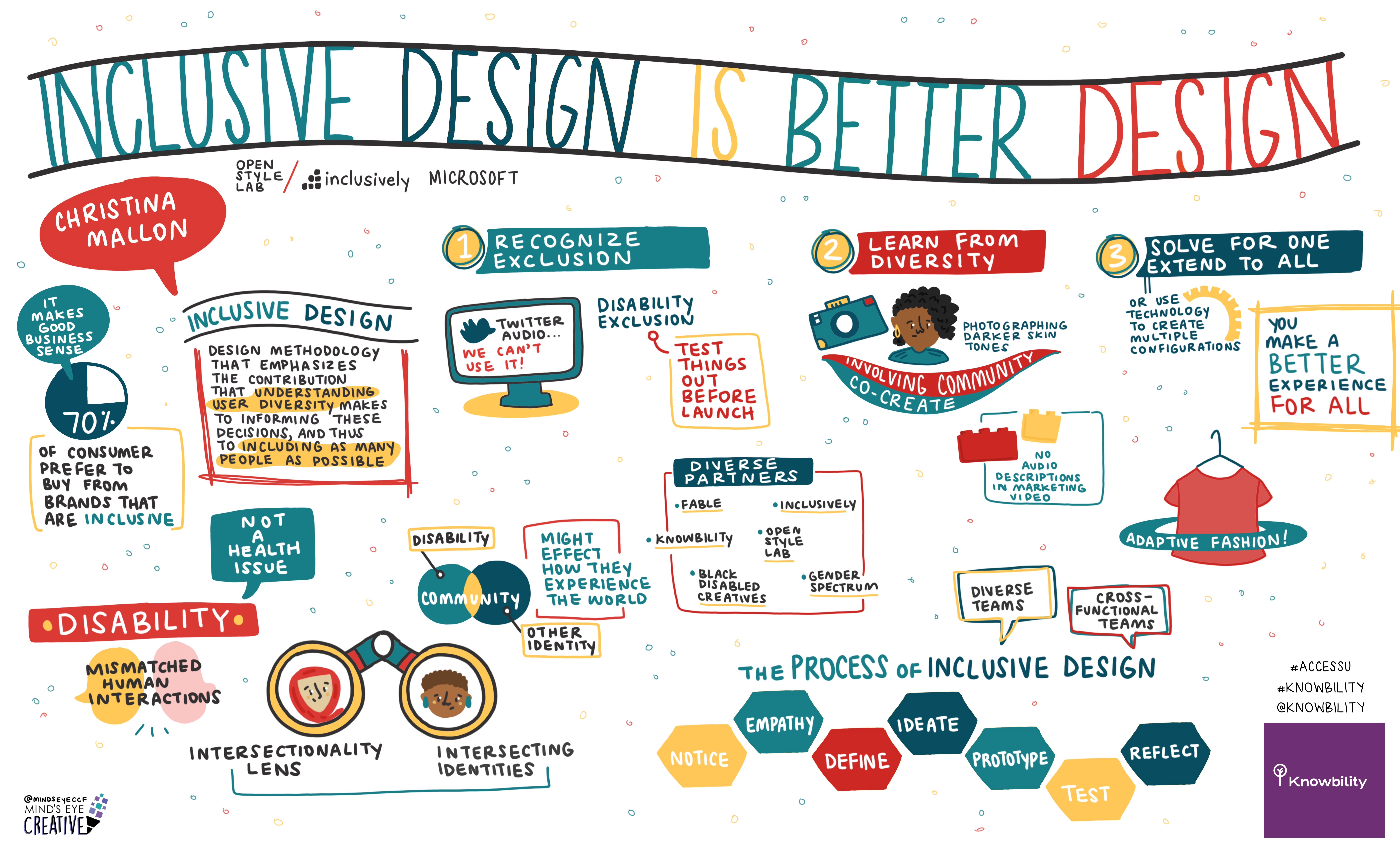 Audio Description of Christina Mallon's Keynote Sketchnote
Visual Description of Christina Mallon's Keynote Sketchnote
---
Kelsey Ruger
Kelsey Ruger serves as the vice president of product at Hello Alice, where he draws upon 20 years of experience running product, design, and engineering teams to guide the development of the Hello Alice platform. Hello Alice advises business owners by providing access to funding, networks, and services through a network of over half a million companies in all 50 states and across the globe.

As a digital technology veteran, Kelsey has used his unique combination of software development and design expertise to create award-winning products that have been used by people around the world. Product accessibility has always been a crucial part of Kelsey's toolset, and he was a member of Knowbiltiy's founding Board of Directors. In addition, Kelsey has served as the President of the Houston Interactive Marketing Association. He earned his B.A. in Management Information Systems from the University of Houston and was named one of Houston's 40 under 40 in 2012 by the Houston Business Journal. When not working, Kelsey loves to teach. He has taught User Experience & Design Thinking at the University of Houston. Currently, he serves as a mentor for Hexagon UX, an organization that provides resources for women entering the design field.
Kelsey's Keynote Talk: Accessibility For Small Business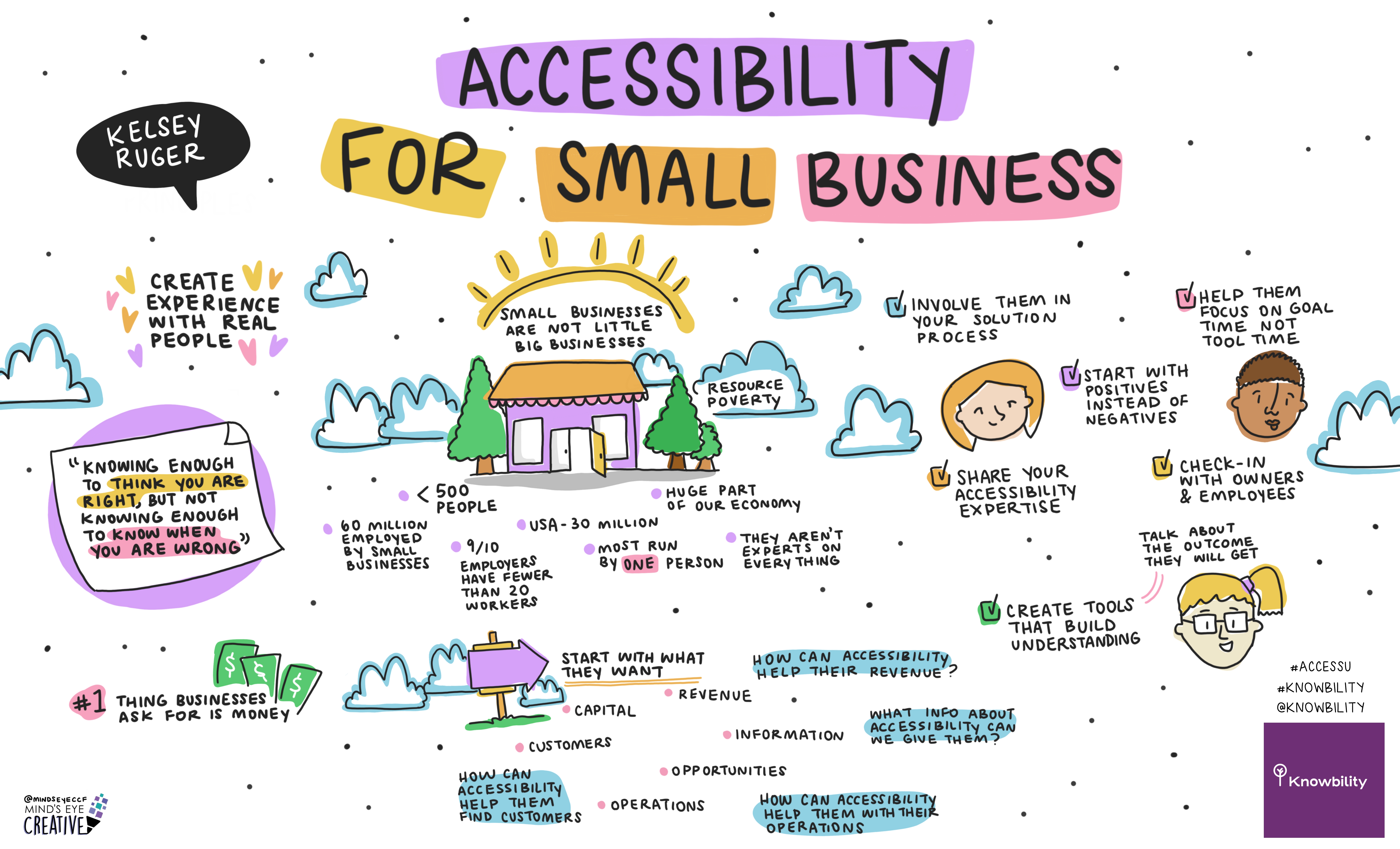 Audio Description of Kelsey Ruger's Keynote Sketchnote
Video Description of Kelsey Ruger's Keynote Sketchnote
At latest count there were over 32.5 million small businesses in the US, which account for 99.5 percent of all US businesses. These businesses, which include many highly valued start ups are responsible for creating 1.5 million jobs a year and account for 64% of new jobs.This session will focus on what we know about small businesses, how they solve problems, and how we can share the importance of accessibility with this growing but traditionally under capitalized group of businesses. 
---
Catarina Rivera
Catarina Rivera, MSEd, MPH is a public speaker and DEI consultant with over 14 years of experience in the public sector. Catarina works with companies to improve accessibility and inclusion, retain employees, and design better products. She is the founder of Blindish Latina, a platform smashing disability stigmas through storytelling, advocacy, and training. Catarina has worn hearing aids from a young age and was diagnosed with progressive vision loss at 17 years old. She has a BA from Duke University, an MSEd from Bank Street College of Education, and an MPH from Hunter College. She is a member of RespectAbility's National Disability Speakers Bureau. Catarina is committed to social justice.
Catarina's Keynote Talk: The Future of Work Must Prioritize Disability Inclusion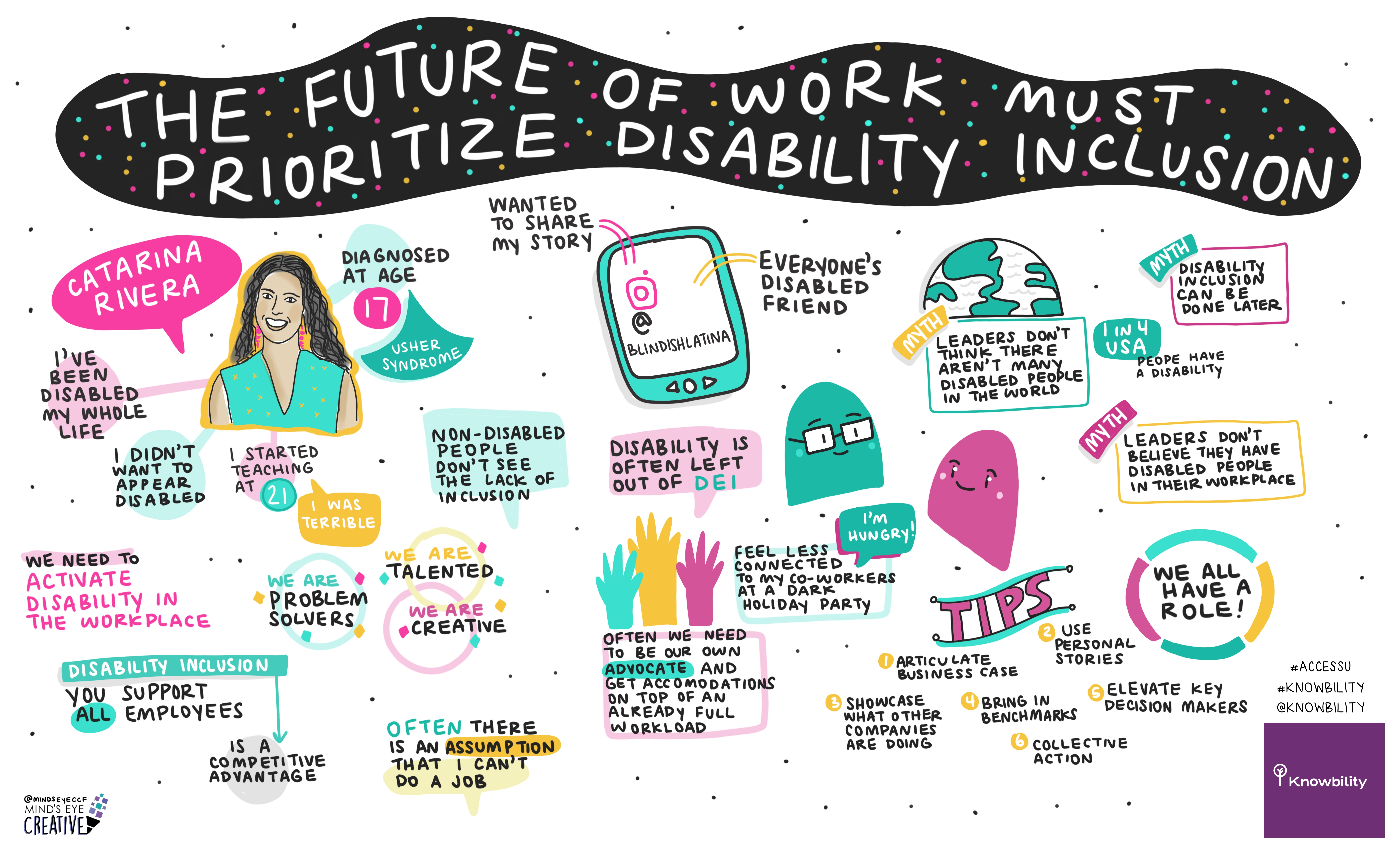 Audio Description of Catarina Rivera's Keynote Sketchnote
Video Description of Catarina River'as Keynote Sketchnote
With the future of work rapidly taking shape, savvy leaders need to recognize that disability inclusion is imperative. While more than 15% of the world is disabled, disability awareness and inclusion are often not seen as priorities. In her keynote, Catarina addresses 3 myths blocking leaders from focusing on disability, explores the emotions surrounding disability, and articulates a vision for the future of work that centers disability inclusion. Catarina will also share tips for how you can influence other stakeholders to care about disability inclusion and accessibility. She uses her own story as a disabled Latine woman to ground you in real-life examples and to create urgency around the imperative for inclusion.
---
Kemi Yemi-Ese CRC, LPC
Nigerian-American therapist and visual artist, Kemi Yemi-Ese, resides in Austin, Texas. Following a near tragic car accident in 2006, Kemi became paralyzed at the cervical level of her spinal cord and uses a wheelchair for mobility. After graduating from Baylor University and Texas Tech Health Sciences Center, Kemi is focused on growing in her dual careers as an artist and therapist. Her art reflects the struggles and triumphs that living with a disability entail through imagery that is relatable. Her artwork and therapeutic approaches often challenge representations of mobility, gender, beauty, race, and divinity. The challenges she faces compel her to also be an advocate and she has taken many opportunities to advocate for her rights and those of others with disabilities. From serving on boards for independent living centers to winning the title of Ms. Wheelchair Texas, Kemi is earnest in speaking up and taking action. Kemi's current work is heavily inspired by her Nigerian heritage blending dynamic and contemplative portraits with cultural exploration.
Kemi's Keynote Talk: The Art of Perseverance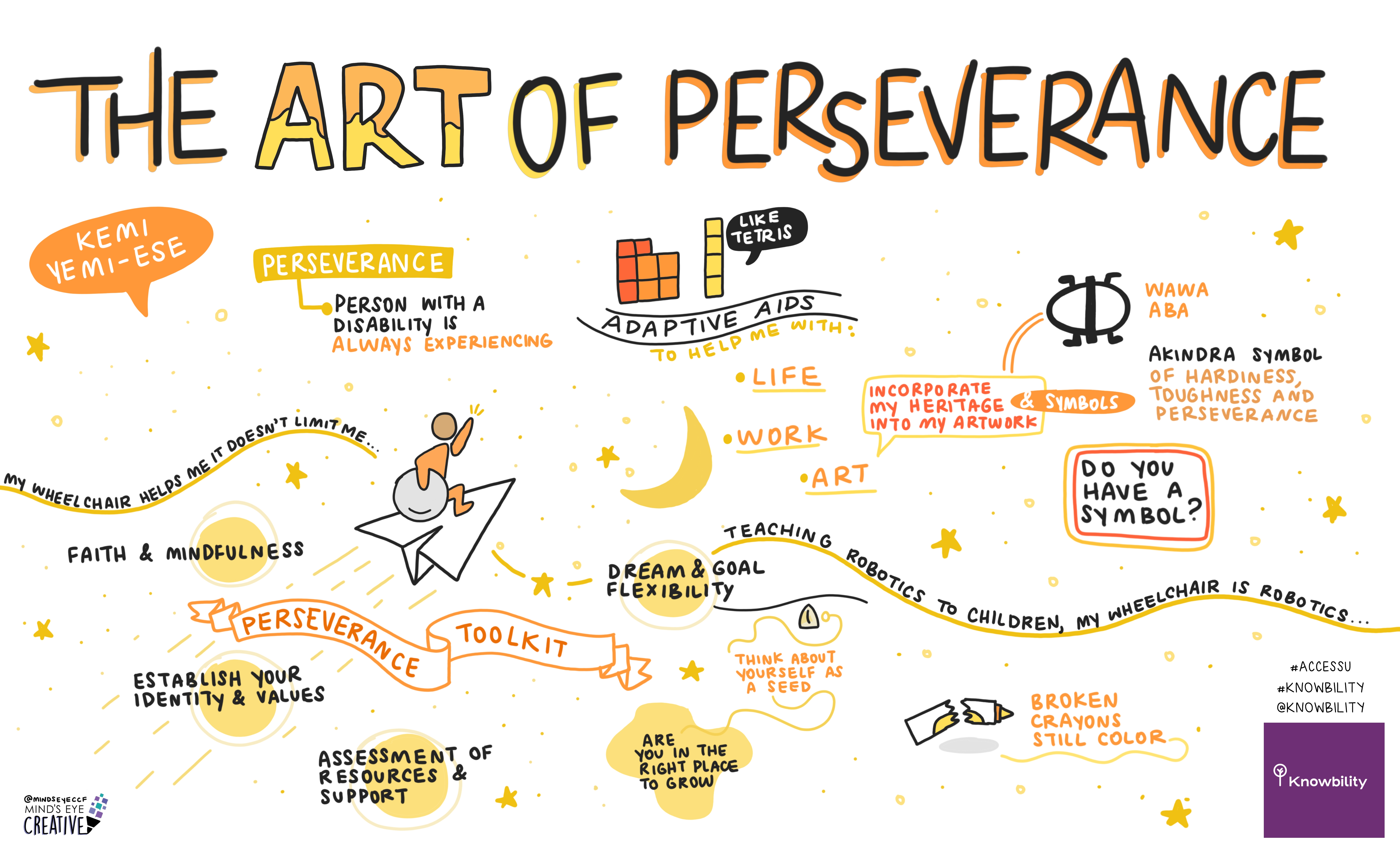 Audio Description of Kemi Yemi Ese 's Keynote Sketchnote
Video Description of Kemi Yemi Ese's Keynote Sketchnote
It is a known fact that we as humans face challenges.  People with disabilities face even more apparent challenges in all areas of life. From physical to societal barriers, this population has had to rely on creativity and tenacity to gain equity. It is both how we face those challenges and create opportunities for others that define our character. During this session,  Kemi Yemi-Ese CRC, LPC ,will share tools integral to the art of perseverance through the lense of her lived experiences as a person, artist, and therapist with a disability.