It has been another banner year of amazing accomplishments at Knowbility. We are working for digital inclusion and equal access to online spaces for people with disabilities, and we are evolving right along with the technology and accessible website design techniques!
There are three pillars support Knowbility's mission: awareness, education, and consulting services. Our highlights from each of these pillars for 2019:
Awareness
A highlight among our many invitations to evangelize about digital inclusion was Knowbility's partnership with Salesforce's Service Cloud to help raise awareness about web accessibility among their staff.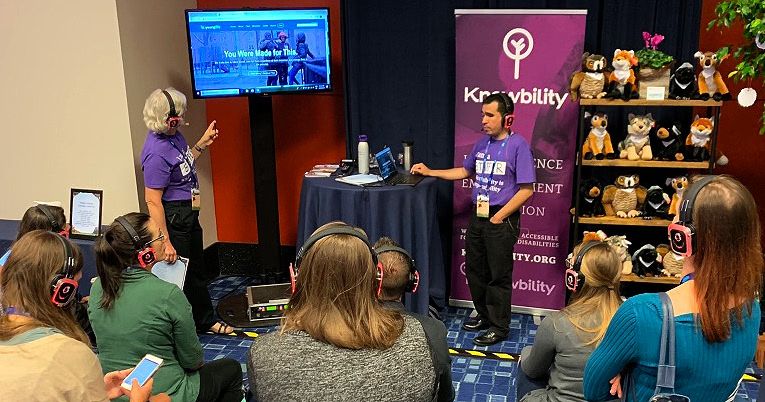 Knowbility staff presented at the World Tour in Boston and Connections 2019 in Chicago. Becky Gibson, our Senior Accessibility Strategist and Anthony Vasquez, our communications specialist, demonstrated accessibility - and inaccessibility - on the web and talked at length about the market advantage that accessible design brings to any company or initiative. Anthony noted in his blog post about one of the events:
As a blind person, digital accessibility is not a nice-to-have. It's essential to my professional and personal successes.
Another 2019 highlight was our staff leading an accessibility master class and offering a session on K-12 accessibility at SxSW EDU. James Green, Senior Director of UX Research and Accessibility at VISA and Knowbility's board chair-elect, also lead a session on the ins and outs of accessibility.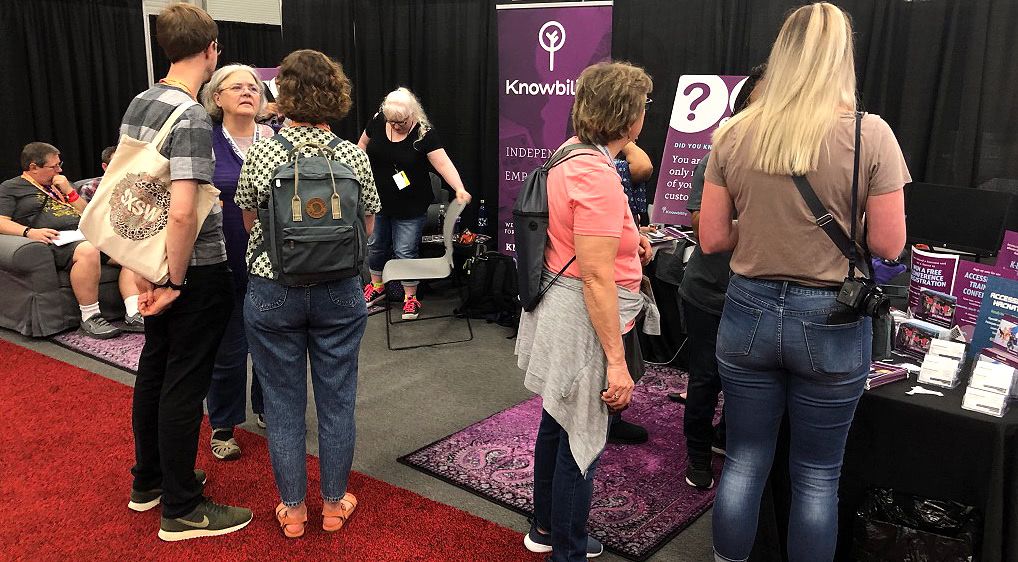 On the tradeshow floor, Knowbility staff offered walk-up, on-the-spot quick checks for accessibility, and conducted assistive technology demos - both are powerful, instant ways to show people what accessible website design really looks and feels like.
Knowbility was invited to be a part of Austin Design Week 2019, and we have a one-minute video of Knowbility's David Chapple very powerful remarks at VISA's Make Space Event that was a part of that week.
Bridging Knowbility's focus areas regarding both awareness and education was our Accessibility Internet Rally. AIR 2019 took place over five weeks in October and November, starting with a very lively kick-off event at the Google Fiber theater in downtown Austin. We also tried something new: an event on the last day the teams were building, allowing teams to give a three to four-minute drop-the-mic presentation on what they were most proud of regarding their submission for the competition, and offering a chance to observe accessibility checks by users with sight impairments.
It's worth noting that the volunteers that made up teams for AIR 2019 contributed more than 4000 hours of build time on the websites they built for nonprofits, artists and state agencies - that's on top of the many, many hours contributed by experts who volunteered their time as AIR mentors and judges for teams and on our AIR advisory board. We will have more videos and quotes from the AIR 2019 soon, reflecting how this event builds awareness among all participants, including nonprofits and artists, regarding accessibility and digital inclusion.
Education
We say it every year: it was the biggest and best AccessU Ever! Disability rights attorney and advocate Haben Girma rocked the house as our keynote speaker for John Slatin AccessU 2019 in the Spring.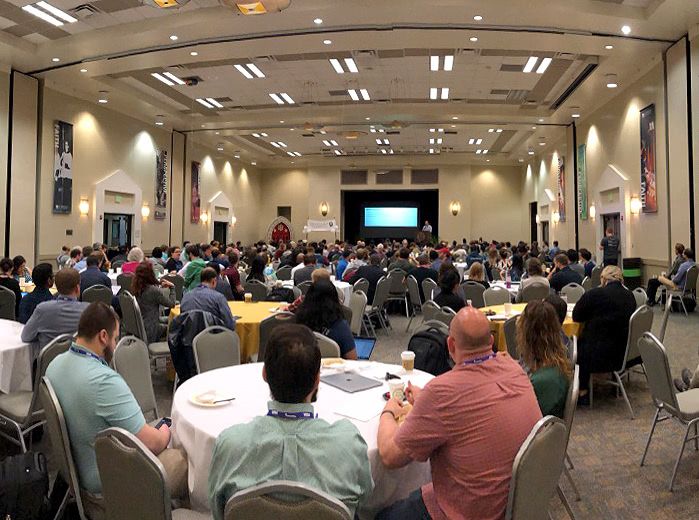 This is our premier digital accessibility training conference held annually in Austin, Texas, with more than 400 people in attendance this year. Trying to review all of the highlights from the four days of presentations, training, and breakout sessions would be impossible. We can say:
The Mozilla Foundation hosted its Hack Day for MDN Web Docs in association with AccessU, giving our event attendees a chance to apply their skills immediately. MDN Web Docs (developer.mozilla.org) is a source of references, guides, and tutorials on standards-based web technologies, much loved by web developers. This all-day session was a mini version of the Hack on MDN for Accessibility held in 2018 in London and participants contributed to content about accessibility, and/or the accessibility to the MDN wiki.

We celebrated Global Accessibility Awareness Day (GAAD) with members of the Austin Accessibility Meet Up (a11yATX) and the co-founder of GAAD, Joe Devon, at one of Knowbility's favorite haunts, Scholz Garten. The celebration included ASL-interpreted Accessible Karaoke!
Check out the AccessU 2019 schedule to see our packed schedule and amazing trainers from this year!
In addition to AccessU, Knowbility launched new webinar workshops and online learning modules:
Consulting Services
The consulting branch of Knowbility's work continues to grow rapidly as more and more companies and government agencies realize the business benefits of having fully accessible websites, and that digital accessibility is an innovation driver.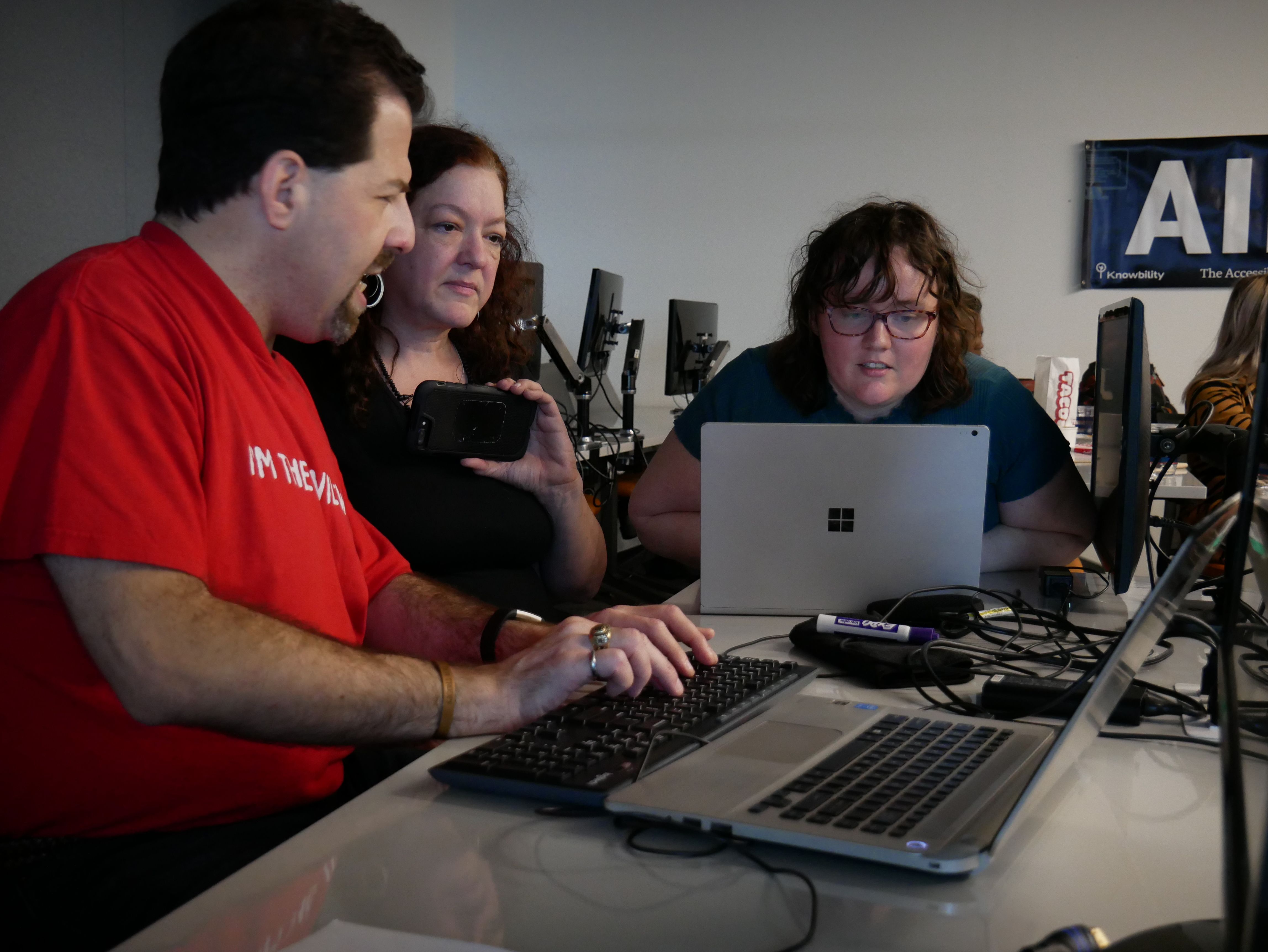 Part of our consulting services includes our AccessWorks database, which allows Knowbility to provide real-world accessibility testing and auditing by people with disabilities, including people experiencing blindness, deaf or hearing impairments, mobility impairments, and cognitive disabilities. Our team has helped hundreds of companies meet their digital accessibility goals, including more than 80 in 2019 alone.
Jim Thatcher
We ended the year on a sad note: the passing of Jim Thatcher, a member of the Knowbility family since before our idea for this nonprofit had a name. In 2012, Knowbility's Executive Director Sharron Rush was asked by Deque's CEO Preety Kumar to participate in a tribute to present Jim with a Lifetime Achievement Award. For that tribute, Sharron wrote, in part:
His passion is contagious and he infuses many with his fervent advocacy. At IBM, Jim led a team of dedicated engineers such as Rich Schwertdfeger and Becky Gibson, who went on to make IBM a global leader in the field. After IBM, Jim continued to influence young developers who took some of that AIR dedication with them in their accessibility work for Apple, Google, Frog Design, Pearson, and so many other companies.
Jim's family has established a fund to provide an annual scholarship to AccessU, the Knowbility training conference that Jim helped found, and to create an annual award for contributions in the field of accessibility. Your donations to this fund are welcomed and will be put to good use.
Your Support Is How We Keep Making a Difference
We're so proud that so many of our services are self-funding, generating revenue for our nonprofit, and better ensuring Knowbility's sustainability. But to allow the greatest number of people and organizations to benefit from our accessibility awareness and education initiatives - to keep the participation registration fee for the Accessibility Internet Rally so affordable so that volunteers, nonprofits and artists don't find it cost-prohibitive, for instance, or to keep ATSTAR as an affordable resource for K-12 teachers - Knowbility relies greatly on financial donations. Please consider donating to Knowbility and helping us to continue to do great things!
We also encourage you to:
We are so looking forward to 2020. Knowbility will continue to provide value to our clients and celebrating our sponsors whose financial support we so value:
The Cultural Arts Division, part of the City of Austin's Economic Development Department
Texas Center For Disabilities, University of Texas at Austin
Verizon Media
The Big History Project
Facebook
Adobe
LinkedIn
IAAP
IBM
HP
Monkee-Boy
Visa
Moody Foundation
WebAIM
IBM
Verbit
Bohemian
Twilio
Mozilla
And we salute our essential in-kind donors, St. Edward's University, SXSW and tech_map as well.
We are also planning ways to deepen our collaboration with those who share our mission like IAAP, G3ict, National Federation of the Blind, and the W3C Web Accessibility Initiative (WAI).
With the help of all of these collaborators - and yours as well - Knowbility will continue to strive to build a more inclusive digital world. Onward!