Become an AIR Sponsor
Support the Accessibility Internet Rally!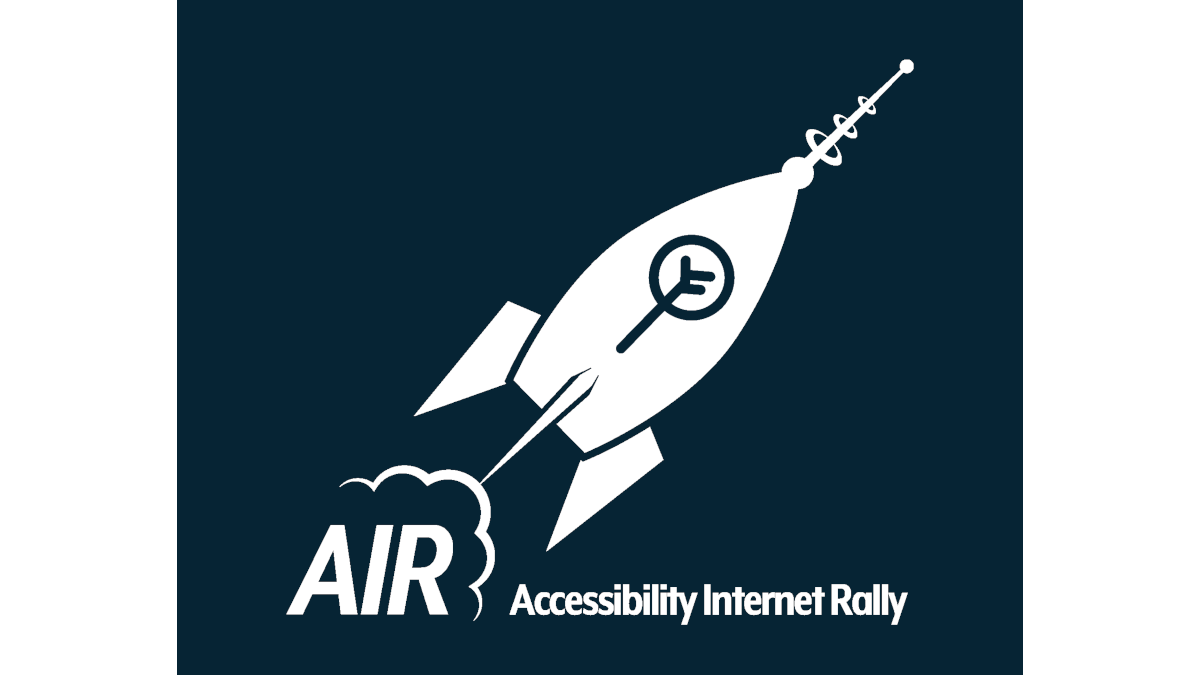 The impact of the Accessibility Internet Rally (AIR) reaches far and wide. For over twenty years, AIR alumni have used the skills learned through Rally experiences to build careers, design better websites, and champion accessibility in their communities and throughout their networks. The results are far reaching and cumulative.

As a sponsor, you can be confident that your support is key to providing the skills and experiences that AIR participants carry with them, long after they make the final updates to the last page on their site and hit that "submit"" button.  Your support ensures that people with disabilities have equal access to opportunity. Join us as, together, we achieve digital equity by closing the digital divide. If you would like to become a sponsor or have any questions about sponsorship, please email us at sponsorship@knowbility.org.
Premier - $50,000
Designated event "Producer"
Sponsor 4 AIR teams (your company name or your name on freelance team)
Featured in newsletters & outreach with logo through January 2024
Logo and recognition at AIR training events for teams and NPOs
Participation in AIR advisory board
Opening keynote at kickoff event in mid September
Award presentation at closing ceremony
Logo and thanks in Knowbility annual report
Attend a virtual meet-and-greet with AIR 2023 Winners
Promotion on social media channels
Platinum - $25,000
Sponsor 3 AIR teams (your company name or your name on freelance team)
Featured in newsletters & outreach with logo through January 2024
Logo and recognition at AIR training events for teams and NPOs
Participation in AIR advisory board
Award presentation at closing ceremony
Logo and thanks in Knowbility annual report
Attend a virtual meet-and-greet with AIR 2023 Winners
Promotion on social media channels
Gold - $15,000
Sponsor 2 AIR teams (your company name or your name on freelance team)
Featured in newsletters & outreach with logo through January 2024
Logo and recognition at AIR training events for teams and NPOs
Participation in AIR advisory board
Award presentation at closing ceremony
Logo and thanks in Knowbility annual report
Attend a virtual meet-and-greet with AIR 2023 Winners
Promotion on social media channels
Silver - $7,500
Sponsor 2 AIR teams (your company name or your name on freelance team)
Featured in newsletters & outreach without logo through January 2024
Logo and recognition at AIR training events for teams and NPOs
Participation in AIR advisory board
Award presentation at closing ceremony
Thanks in Knowbility annual report
Promotion on social media channels
Bronze - $2,500
Sponsor 1 AIR team (your company name or your name on freelance team)
Featured in newsletters & outreach without logo through January 2024
Verbal and listed recognition at AIR training events for teams and NPOs
Participation in AIR advisory board
Thanks in Knowbility annual report
Promotion on social media channels
Supporting - $1,000
Sponsor 1 AIR team (your company name or your name on freelance team)
Listed recognition at AIR training events for teams and NPOs
Thanks in Knowbility annual report
Promotion on social media channels