Why Accessibility Matters in Fundraising Apps
Knowbility is a nonprofit organization with a mission to make digital communication tools accessible to and usable by all people regardless of disabilities. Along with millions of other nonprofit agencies that serve a public good, we must find support and raise money for our cause.
The global challenges of 2020 had deep impact on nonprofit work. At a time when the COVID crisis increased the need for a range of support services, nonprofit organizations saw typical funding streams decrease or completely disappear. In-person fundraising events were most often canceled and volunteers were suddenly unavailable due to mandated social distancing efforts. Many organizations turned to online fundraising platforms in an attempt to reach donors and gain support – of course, there is an app for that.
Fundraising platforms promise functionality far beyond the quick fix of something like GoFundMe. These are complex systems of donor communications, tracking, and relationship building. We began with Mashable's Top 12 online fundraising tools (2011) and added a few that came to market since then. Unfortunately none that we found meets even minimal accessibility requirements. Doing a quick scan with an auto tool, the average number of accessibility violations on just the landing page was more than 50.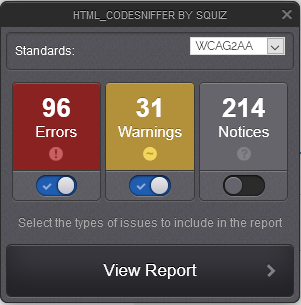 What does this mean for our users? Inaccessible systems exclude not only donors with disabilities who may want to give to a nonprofit cause, but also make it impossible for staff with disabilities to independently set up and manage campaigns. For example, I Live Here, I Give Here (ILHIGH) is an Austin-based community fundraising umbrella that uses a platform called GiveGab. Previous posts about the ILHIGH/GiveGab system have detailed the recurring barriers that we face. There is no way to create an accessible campaign on this platform.
ILHIGH/GiveGab is by no means the only inaccessible system out there. The point here is not to rehash specific issues but to suggest ways to address the fundamental fact that my staff cannot use it or many others like it. The Communications Specialist who was assigned the task of setting up our campaign is a screen reader user. He hit a firm brick wall when trying to do his job. That is demoralizing and discouraging. It is also blatantly discriminatory.
The fact that a Communications Specialist who uses a screen reader hits a brick wall when setting up a campaign on these platforms is demoralizing and discouraging. It is also discriminatory.
As the impact of the pandemic became alarmingly clear, we received invitations from one fundraising platform after another. We always requested a VPAT. Most did not know what that was. Those who did - without exception - said something like "We don't have a formal VPAT but accessibility is very important to us." Further conversation would reveal that it was not so important that they actually had defined a goal and developed a plan to achieve it.
After years of experience, we know that until and unless accessibility is prioritized within the product development life cycle, it will not happen and cannot be sustained. For more than three years, we have heard that ILHIGH/GiveGab is "working on accessibility." And yet, the most recent iteration remains fundamentally inaccessible. We like to help so we offer this planning guide.
Use this four step guide to broaden your client base and ensure that donors with disabilities can support the causes they care about as easily as any other donor.
Four Steps to Integrate Accessibility into Product Development Life Cycle
Step 1 – Commit to accessibility
It is long past the time when you can vaguely say nice things to people with disabilities and continue to rely on their patience as you tinker around the edges of accessibility. Be authentic in your claims. Be explicit if your commitment to inclusion is truly meant to apply to the more than 1 billion people in the world who are blind, visually impaired, deaf, mobility impaired, and/or emotionally or cognitively impaired. Here are some ways to do that:
Step 2 – Plan Your Approach
Companies have distinct approaches to product development. A solid plan will review accessibility goals in the context of the overall production environment.
Step 3 – Do it!
With proper planning, staff awareness and training, and clearly stated objectives, your accessibility goals become an integrated part of your standard product development lifecycle.
Step 4 – Maintain accessibility in product evolution
A few years ago, Knowbility wanted to purchase a conference attendee app to use for our annual John Slatin AccessU training conference. We found one that had potential and approached them with a partnership offer. We would embed one of our developers on their team and pay them for the time to make the accessibility improvements we needed for our attendees. They agreed and all went well, we met the goals and sang Kumbaya. But by the time May rolled around and we set out to install and recommend the app to conference attendees, our partners had iterated. Gone were nearly all of the accessibility improvements we had made together. We still don't have an accessible conference app. AccessU was virtual in 2020 and will be again this year. If only…
Maintenance of accessibility standards cannot be overlooked. Here are some things to include in your long term planning:
Here at Knowbility, we welcome an opportunity to communicate with donors, engage them in our work, and ask for their support. If you create donor software, please help us become your customer by building a system that can be used by our staff and millions of potential donors with disabilities. Thank you!
---
Note: The process outlined above was developed over more than 20 years of helping companies realize their commitment to accessibility. It is closely related to the Planning and Managing Web Accessibility guide that I contributed to as co-Chair of the Accessibility Education and Outreach Working Group at the W3C.