The M-Enabling Summit in Washington, DC is a long-running accessibility conference. In September the conference made its first appearance in Europe in the form of the M-Enabling Forum Europe in Düsseldorf, Germany, and I was pleased to attend on behalf of Knowbility.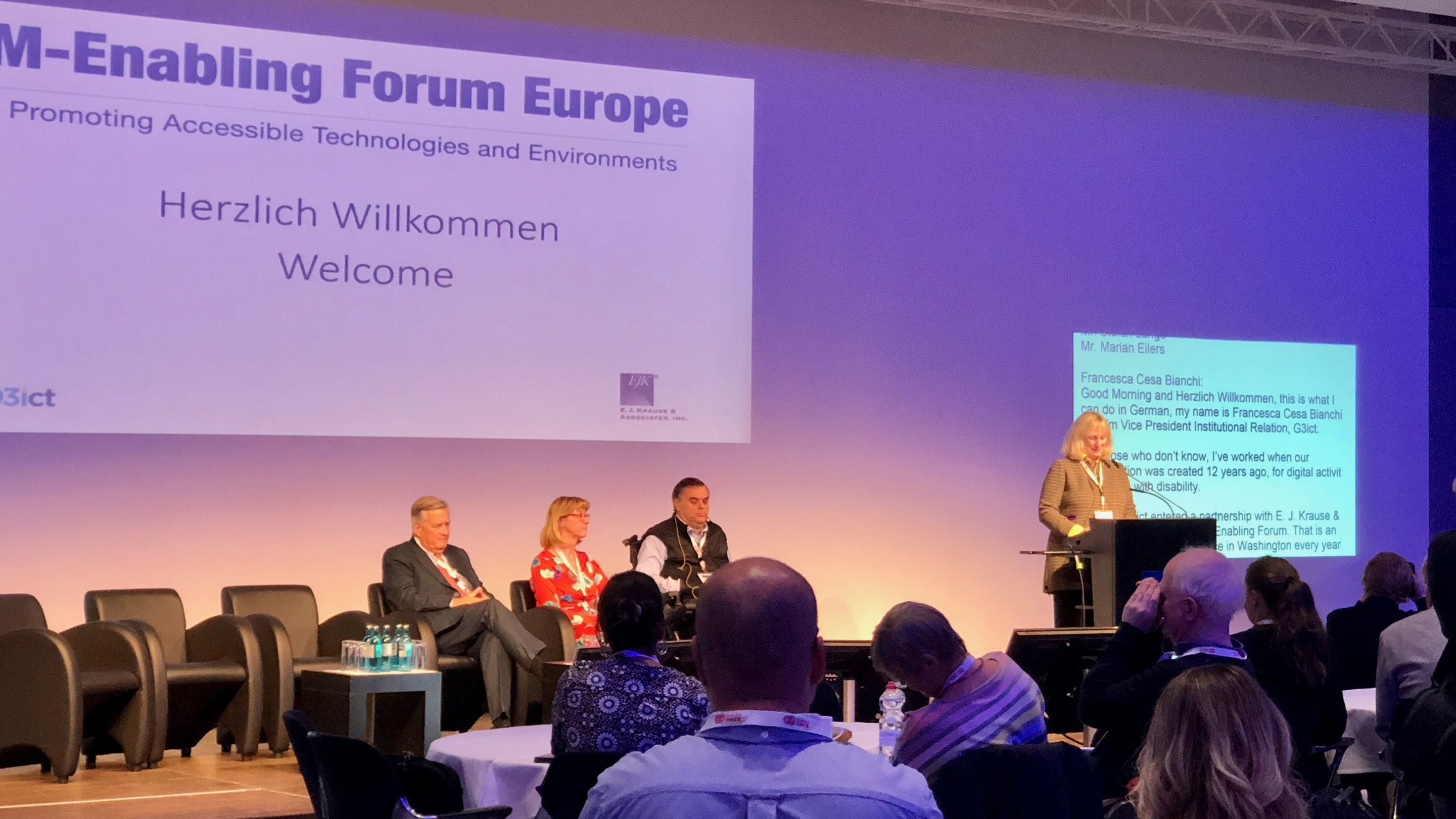 Attendees of the Summit generally agreed that accessibility has become a much more important topic in Europe with the publication of the European Accessibility Act. However, that surge of accessibility expertise is a little bit overwhelming as there are not nearly enough people to test websites.
"We must train and raise the floor to have a basic quality standard. And quick," said Susanna Laurin from FunkaNu.
As someone who attended an M-Enabling event for the first time, what stayed with me were some of the more political and overarching themes for accessibility in the mainstream. The European Commission's Disability & Inclusion Expert Inmaculada Placencia Porrero's opening words introduced the theme when she underlined that accessibility needs to be mainstream. While noting progress in the public sector, she also mentioned current shortcomings in accessibility regulation for the private sector.
For 64 percent of users, digital accessibility is a daily struggle.
Yuval Wagner of Access Israel quoted some statistics at the beginning of an exciting "independent living" panel: "For 64 percent of users, digital accessibility is a daily struggle." He insisted on learning from our mistakes of retroactively bolting on accessibility: "We have the opportunity to build the world accessible by default."
The innovative apps panel was one I was looking forward to the most. Panel chair Sabine Lobnig of Mobile & Wireless Forum showed GARI, a website that helps users to find the right device with the right accessibility features. Sarah Herrlinger showed Apple's advanced accessibility features, including fall detection on the Apple Watch and the Shortcuts app that allows users to automate repetitive tasks or tasks that involve many steps. Barbara Operschall showed SpeechCode, a way to embed product information in multiple languages in a QR code that can then be printed on medicine or household items.
After lunch, the standards panel leaned heavily on the fact that, with Section 508 and the European Accessibility Regulation, we never had such a world-wide harmonized regulation for accessibility. The cornerstone of the harmonization is W3C's Web Content Accessibility Guidelines, as Shadi Abou-Zahra (W3C) noted.
The following panel on capacity building showed the massive gap of accessibility professionals in Europe. Education played a huge role, from putting boots on the ground through training for practitioners to certifications for testers and websites.
The last two sessions of the long day with quite varied viewpoints were also interesting: accessible environments and how to turn accessibility into a global trend. The German Wheelmap.org project showed how it turned from an idea to a widely used application that helps wheelchair users to find accessible venues. Another highlight was a presentation about talking robots able to guide visitors through museums.
All in all, M-Enabling Forum 2018 was a successful start to a series of events, with the next one happening on September 19, 2019, again in Düsseldorf, Germany, and again in conjunction with Rehacare, one of the largest fairs for assistive technologies.