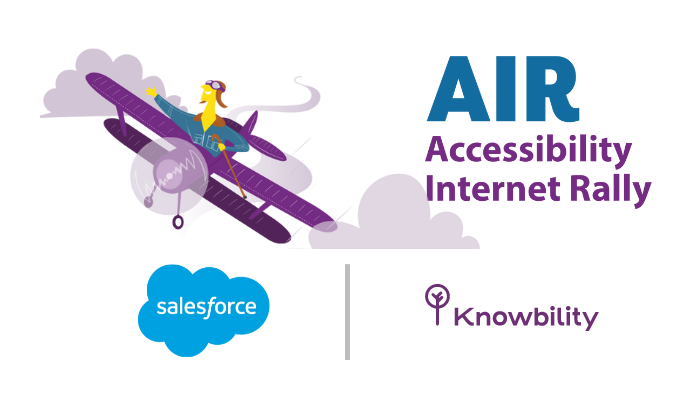 After the judging round, we celebrated the end of another successful Accessibility Internet Rally (AIR). Winners were announced on Thursday January 5. Of the 18 teams that competed, the winning sites are:
1st Place: Team AIRway designing for Work Opportunities
2nd Place: Team CA11yGurls designing for the Central California Animal Disaster Team
3rd Place: Team A11yFly designing for Geno's Place
AIR is a community tech-for-good initiative in which teams of web developers and designers compete by building accessible websites for nonprofit organizations, community groups, and artists. Accessible websites allow everyone, including people with disabilities, to access online content and become more socially and economically integrated into our digital world.
Knowbility staff trained participating web professionals in accessible web design skills. Under the guidance of a mentor, the teams of developers and designers worked for six weeks to improve the accessibility and usability of their clients' websites. Paul J. Adam, an accessibility subject matter expert with 24 Seven Talent, was lead mentor. At least one mentor was assigned to every team. Contestants worked in distributed teams across national borders and time zones. Sites were judged by accessibility experts from around the world led by Rob Carr, Strategic Accessibility Coordinator for WebAIM. Our event chair was Reginé Gilbert, a user experience designer, author, and  professor at New York University.
"The thing about accessibility is, once you know about it you can't not know about it," Reginé said. "You see it everywhere."
The third-place winners were Team A11yFly for their work on Geno's Place, the personal website of Gene Rogers, a disabled traveler, explorer, and television host who has visited 44 countries.
Gene was thrilled for his team, "My team worked really hard on this. And I was really happy to see the all the collaboration that was going on across several States to make this happen." 
"If we can make the web accessible enough that there's no problems distinguishing what is where, we could have everybody enjoy the web 100%. So I want to thank my team for all  of the hard work they did, and thank everyone for making the world a little bit more accessible."
A11yFly team members include Aakruti Lunia, Amber Weeks, Bob Lichtenfels, Fred Esch, Peter Zaremba, and Sophia Faniyan. Their mentor was Komal Muluk. 
Team Ca11y Gurls came in second place for its work with the Central California Animal Disaster Team. The organization works to mitigate the loss of human and animal lives by providing assistance for displaced animals during natural and human-caused disasters, to promote the prevention of cruelty to animals, and to foster the human-animal bond.
Ca11y Gurls is made up of Willy Quach, Adrienne Grace, Amanda Harrison, Clarice Torrey, Faja Akther, and Gina Strickland. Mary Ann Jawili was team mentor.
Team AIRway notched first place for its work with Work Opportunities, whose mission is to promote self-determination, self-respect, and valued participation in the community for people with disabilities in the Seattle area through work.
AIRway members include Graham Venning, Gerson Lacdao, Catt Juan, Patrick Gerolaga, Deneb Pulsipher, and Kosi Asabere. Their mentor was Cindy Xavier.
Graham Venning, team captain, "It's been an amazing experience learning and working together as a team because it just couldn't have been done without each and every person working together very hard and putting in a labor of love and going above and beyond in so many ways."
Marti with Work Opportunities expressed her gratitude for her team.
"I'm just so grateful. Even if we hadn't won, the collaboration of this entire process and this team is just beyond my words and the site is amazing."
"One of my favorite features is the feature that they added for us to be able to collect stories of the people that we serve and even the businesses that support our clients… Next year's our sixtieth anniversary so it's going to be an amazing tool," Marti added.
More than 150 volunteers participated in AIR 2022. In addition to members of the web development teams, other volunteers included mentors, judges, and program advisors in and outside of Knowbility. AIR 2022 supporters include Salesforce, Rev, Adobe, Monkee-Boy, Trend Community, and Betterleave.