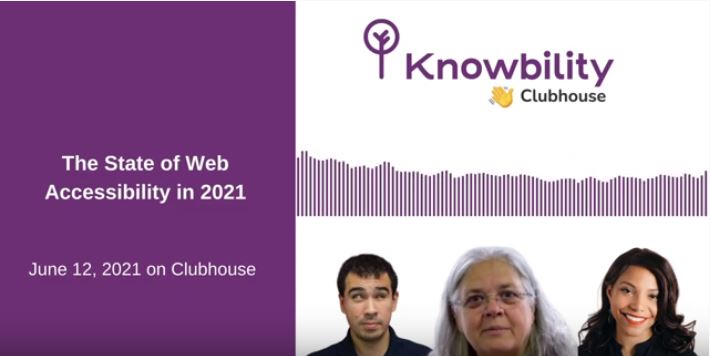 Knowbility recently launched a weekly event - an exploration of digital accessibility topics - on Clubhouse. You may have heard of this invitation-only social media app for iOS and Android that lets users gather and share perspectives in voice chat rooms. During COVID times, the ability to drop in and talk to friends and meet strangers was a welcome respite from social isolation and the Clubhouse community grew rapidly. In April 2021, Knowbility hired a Marketing and Communications Director who positioned us front and center in Clubhouse by May. As a result, you will find Knowbility on Fridays at 1 pm US Eastern Time when former Marketing and Communications Director Mariella Paulino poses a series of questions to Knowbility staff and others who drop in to the room.
Many in our community are not pleased or excited to see us promoting our participation in what is beyond a doubt a platform that is not accessible for many people with disabilities. Clubhouse has been a source of additional controversy due to the instances of bullying, harassment, and racism that have occurred on the app. "Of all organizations," said one highly respected leader of our community, "Knowbility should know better than to participate on Clubhouse - what are you doing there?!"
This post is an open letter of explanation and an invitation to join us in disrupting the Clubhouse space and demanding access and respect for all.
Why Not Hang Out on Clubhouse?
There were many accessibility reasons to object to Clubhouse when it was launched and some - but by no means all - of them have been addressed. There are reasons beyond disability exclusion that might also cause people to avoid participating. Among the offenses attributed to the app are these:
So Why is Knowbility on Clubhouse?
In May, Knowbility was truly thrilled to welcome civil rights leader and author Judith Heumann as a keynote speaker for our annual AccessU training conference. Judy spoke of her years of advocacy and encouraged us to be prepared to show up and occupy inaccessible public spaces to demand the right to participate. Audience members asked "How do we do that in the digital space?" to which Judy replied that she was an advocate, not a technologist and she would leave it to us to innovate in the online spaces where we found ourselves during the pandemic. The point resonated strongly with me as I had seen so many opportunities move online. The need for access to online education, employment, shopping, and civic and social engagement was undeniable. Without equal access, participation was simply not possible. If Judy Heumann was advising us to "show up and disrupt," we should pay attention.
As well, our Board of Directors was urging engagement on new platforms. Members of the Knowbility Board are volunteers who care deeply about technology accessibility and disability inclusion. One of them is Jennison Asuncion, co-founder of Global Accessibility Awareness Day (GAAD). Another is Frances West, who founded FrancesWest Co. after she retired as Accessibility VP at IBM. Both urged staff to take the leap into Clubhouse. They envisioned the power of uplifting the topic of digital access while playing in the cool kids yard on a new platform. It was Mariella and her colleague Anthony Vasquez who actually made that vision real, however.
Mariella is deaf and so the barriers to her participation were profound. She hacked a work-around using Google Meet auto captions to provide the needed accomodation for deaf participants and made other small tweaks to improve accessibility. Under her direction, Knowbility now opens a room each Friday at 1:00 pm ET to discuss a broad range of digital accessibility topics.
If You Build It, They Will Copy
It was not long before the success of Clubhouse inspired copycat competitors. Twitter, Facebook, and numerous others began to launch audio-room apps to compete. Unfortunately none of the competitors are fully accessible and all of them are therefore discriminating against people with disabilities. Our board members and keynote speaker convinced us that it's our responsibility to show up to disrupt inaccessible online spaces until everyone has equivalent access. That's our plan and we invite you to stop in and tell us what you think - join the Knowbility Club to be part of the conversation. Or, if you are of the boycott school, send us an email.
We're definitely listening.