The first A11yTO conference happened on September 28 and 29, 2017, in Toronto, ON, Canada. It was the first conference devoted entirely to accessibility in Canada (apart from a few A11y Camps and meetups). I thought it was a success. From the comments I heard at the conference and saw on Twitter, I wasn't alone. Attendees, speakers and organizers also thought the conference was a success.

I had the good fortune of being one of the first speakers announced for the conference. I was in great company with other speakers such as Leonie Watson, Makoto Ueki, Karl Groves, Henny Swan, Adrian Roselli, and many others.
A11yTO was a single track conference. It worked very well. I'd never attended a single track conference. But if they all work as well as this one did, I look forward to the next single track event I'm to attend.
The schedule, organized as a "playlist" on the A11yTO site, offered talks of different lengths. It made for a dynamic couple of days.
The organizers and volunteers went out of their way to be helpful and welcoming. I've spoken at many events, large and small. Several of these events could learn from A11yTO's organizers' hospitality.
The audience
There were about 300 people attending the conference. The audience was a mix of people who eat, drink and sleep accessibility, and other people interested in learning about accessibility. There were designers, developers, project managers, and accessibility experts. This mix of attendee background also helped make the conference feel more dynamic.
Presentations that really stood out for me
Mobile Web and Native Apps: Simplifying Mobile Accessibility (Web and Native)
This was a great talk discussion mobile accessibility. They covered elements of accessibility I had not explored in depth before. I found the discussion on focus areas and how to make them more friendly to assistive technologies particularly interesting.
The VoiceOver and TalkBack #selfie challenge
This was a short presentation which triggered a lot of laughter. It was a good bit of fun, and great introduction to using VoiceOver on a phone and do something useful. Aidan Tierney and Jason Thompson told us how to activate VoiceOver and explained how to take a selfie. The noise in the room was intense as several dozen people turned on VoiceOver on their phone at the same time! I may have to take inspiration from this for future trainings and workshops.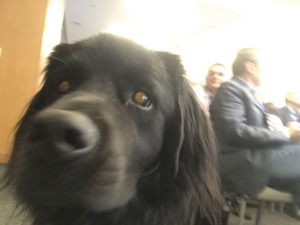 My entry for the VoiceOver selfie challenge - I cheated and took a photo of my dog. Not exactly in focus - he moved as I was taking the photo!
Designing Accessible Web Content for "Older" Users
Makoto Ueki brought us insights from japan and spoke about the parallels between findings from usability testing with older users (not that old, actually), and common issues with accessible web design. It was particularly interesting to see what is happening in Japan, a part of the world we don't often hear about. Not to mention Makoto's delivery which was quite funny and memorable.
Journey to Accessibility: Options for High Volume Accessible documents
Very interesting discussion about making documents accessible when an organization is dealing with lots of documents. One idea that is worth exploring is using a 2D barcode on printed documents to provide access to different digital versions of the document. This may be quite useful for some people. I could even see a use for the idea beyond accessibility: Offer translations in other languages that way.
Cake and Code
Ian Pouncey had an interesting way to present information. The major take-away was: Designers need to give more information to developers. Ian compared most of the designs to a photo of cake. Without the recipe, even the best baker would be hard-pressed to produce the results on the photo. It's the same with web design.
Some of the designs given to developers are a bit like photos of cake - no recipe on making it happen says @IanPouncey #a11y #A11yTOConf pic.twitter.com/oO47QekAMF

— Nicolas Steenhout (@vavroom) September 29, 2017
My presentation
The title of my presentation was "Accessibility: No rights without responsibility". We hear a lot about the rights to access for people with disabilities. We don't discuss the responsibilities. In this talk, I go over who has rights and who has responsibilities. I conclude everyone has both rights and responsibilities - people with disabilities, designers, developers, site owners, etc. I wrote a post on this topic a few years ago on my personal site
OpenAir Challenge
I also gave a lightning talk about the OpenAir Challenge during the lunch break. The organizers were good and found a 5 minute slot at the last minute so I could talk about this great event. It was particularly interesting for people in Toronto since this year is the first year it is open to non-profits outside of the US.
@vavroom gives a presentation on the @knowbility Open Air Challenge at #a11yTOConf pic.twitter.com/6MSpPqudkS

— #a11yTO (@a11yTO) September 29, 2017
OpenAIR registration is now open for non-profits and development teams all around the world. For more information, please visit Air-rallies.org.
I'd go again
I am looking forward to the next edition of A11yTO. I will do my best to attend again. The organizers did an absolutely brilliant job. The volunteers were there to help without being "in your face". The speakers were excellent and the topics varied and informative.
Where to find me next
Tomorrow, I will be giving my "Accessibility: Don't turn off that JavaScript just yet!" talk in webinar format for A11y Drupal #a11ytalks. If you develop websites or web-based applications that rely heavily on JavaScript, and you care about making your creations accessible to people with disabilities, be sure to attend this discussion. This presentation will cover some of the issues that can arise from using JavaScript, and how scripting can be used in a way that still ensures accessibility. The presentation will be followed by a lively discussion with participants, so bring your JavaScript-related questions!