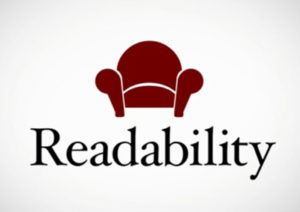 Announcement
Rich Ziade of Readability.com announced today that his company will donate $50,000 to Knowbility. Rich said that the gift is because "We think you're doing great, important work." Readability.com did not set out to benefit people with disabilities specifically. Begun as a way to unclutter web pages and allow readers direct access to page content, Readability has been widely adopted by people with disabilities, including cognitive impairments, low vision and those who use screen readers. It is an excellent example of how, as John Slatin used to say, "Good design IS accessible design."
Since Knowbility is in the midst of our first ever official fundraising effort, I wondered how Readability got wind of us and our work. Talking with Rich when he called yesterday, he let us know that one of the company advisors is Jeffrey Zeldman, an established leader in web standards and an advocate for accessibility himself. Jeffrey polled the disability/accessibility community and Knowbility's was the work that was most often mentioned. What an incredible honor! So on behalf of millions of kids and adults with disabilities who lead more independent lives thanks to accessible technology we want to say thank you!
I sent Rich this background information, and they are making the announcement today:
About Knowbility
Since 1998, Knowbility has been raising awareness and training web professionals about why and how to make the online world fully accessible to all - including people with disabilities. Knowbility promotes equal technology access by producing community programs including the Accessible Internet Rally, an accessible web design competition; the ATSTAR program, helping teachers get assistive technology to the students who need it; and AccessWorks, putting veterans and others with disabilities to work in technology fields. Knowbility's mission is barrier-free I.T.
Readability.com - great corporate citizens!
At a time when nonprofit organizations are challenged to find needed resources to do mission-driven work, companies like Readability.com demonstrate that responsible corporate citizens can play a large and important role. Kudos and deepest gratitude to Rich, Jeffrey and all who do this good work in our global community.